Saturday, 12 February 2022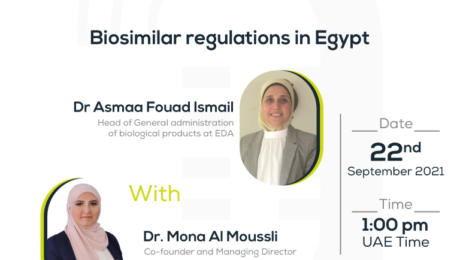 Title: Biosimilar Regulations in Egypt
Date: 22nd September 2021
Time: 1:00 PM (UAE Time)
In the fifth episode, we will discuss the Biosimilar Regulations in Egypt.
Episode 05 Guest:
Asmaa Fouad Ismail
General Director of Biological Products General Directorate and Emergency Committee Member
B Sc. of pharmacy, Cairo university, class 2002.
Currently working as general director of biological products general directorate and emergency committee member.
Former head of Biologicals Registration at NORCB.
Worked in Registration of biological products since 2003 till 2021.
Participated in establishment of the latest version of the Biosimilar Registration guideline, emergency use approvals guideline and team member in registration group of the National project to produce plasma for fractionation.
A member in WHO global review team for Covid -19 vaccines.
Represented the Egyptian health authority as a speaker during the Middle East regulatory conference.
To view episode 5, please click the links below: